Who we are
Here at Liberty SoftWash, you will find a one-stop-shop that caters to all your residential and commercial washing needs. We cover most counties across Central Pennsylvania and Maryland, and also offer services in Arden, Ardencroft, and Bear in Delaware.
We are specialists in commercial concrete cleaning, as well as being highly experienced in asphalt and tile clean-up too. With our emergency grease spill clean-up service, our expert technicians are on hand to manage your spill and clean-up the resulting oil. We also offer many other cleaning services to businesses, to make sure your premises are in perfect condition and looking pristine for when your customers visit.
Concrete clean-up
As members of the United Association of Mobile Contract Cleaners (UAMCC), Liberty SoftWash will ensure that we adhere to all BMPs when carrying out the containment and disposal of on-site spill liquids. Our specialized reclamation equipment properly filters all wastewater before jettisoning, giving business owners and their customers the peace of mind that their operations are environmentally sound.
Industry leaders
Besides our use of water reclamation equipment, Liberty SoftWash's co-owner Lisa Seitz also actively takes part in governance work at the UAMCC by sitting on the Board of Directors as Secretary.
Reasons to choose Liberty SoftWash
We specialize in a wide variety of cleaning services. On the commercial side, we offer solutions for keeping your facilities looking their best with interior tile floor cleaning, apartment complex pressure washing, and brick cleaning and restoration. For residential clients, we offer tailored slate roof and cedar roof cleaning options, in addition to general roof cleaning and Christmas light installation.
Reviews
Please check out our 5-star reviews and feel free to leave one of your own anytime:
"We have used Liberty Soft Wash numerous times. They have always gone over and above our expectations!"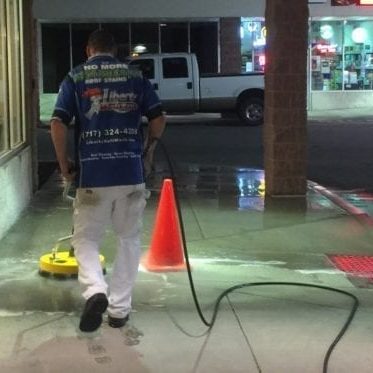 Posted in
Dallastown
,
Delaware
,
Dillsburg
,
Dover
,
Elizabethtown
,
Enola
,
Gettysburg, PA
,
Hanover, PA
,
Harrisburg, PA
,
Hershey
,
Jacobus
,
Lancaster, PA
,
Littlestown
,
Maryland
,
Mechanicsburg, PA
,
Millersville
,
Mt Joy
,
Palmyra
,
Pennsylvania
,
Willow Street
,
Windsor
,
York, PA
|
commercial
,
concrete cleaning