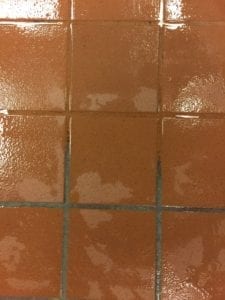 Keeping your commercial establishment's tile flooring clean is an important step in bringing customers back to your establishment. Tile flooring in commercial settings like restaurants, kitchens or public restrooms requires deep cleanings on a regular basis along with daily maintenance cleanings in order to look their best.
Daily moping gives floors the appearance of being clean but in reality, moping is just spreading the dirt, grease, and bacteria over the surface of the floor, pushing it into the porous surfaces of the tile and grout. Often times the mop itself can amplify the problem, if not properly cleaned, dried and stored mops can be a dangerous source of bacteria being spread across your floor!
An effective way to remove the embedded dirt and grime from your tile floors is to have a professional cleaning performed on a regular basis… With our tile cleaning service, we clean at varying pressure with a surface cleaner while we reclaim the wastewater and properly dispose of it following local regulations. What this means is, you won't be left with any residual mess, after your cleaning, just clean floors.
Keep your commercial facility looking its best; call Liberty SoftWash at 717-324-4208 to discuss your interior tile cleaning needs. Be sure to visit our website at LibertySoftWash.com to learn about our other services.