Do you have ugly shingles? Does your roof have algae, lichen or moss growth?  Think you need a roof replacement?  You may be wrong.  Those ugly shingles don't have to be replaced, they can actually be cleaned using a safe yet effective cleaning method called soft washing.
Liberty SoftWash specializes in roof cleaning and can safely remove years of algae, lichen and moss growth from your roof with out causing damage.  This low pressure cleaning technique is safe for all types of roofing including asphalt shingles, tile, metal, slate, cedar and more.
Soft wash cleaning is a gentle, exterior cleaning method that is an alternative to pressure washing.  While pressure washing utilizes the pressure of water for cleaning power, soft washing is done using detergents and low pressure water.  Soft wash cleaning will not only clean the surface but will also eliminate the algae growth.  Soft wash cleaning is ideal for surfaces such as dryvit, stucco, EAFIS, vinyl siding, painted wood and more.
We don't just clean roofs at Liberty SoftWash.  Our pressure washing service is ideal for cleaning even the dirtiest areas of concrete, asphalt, brick, stone and other hard exterior surfaces.  Our pressure washing equipment has the capacity to clean using both hot and cold water. We offer pressure washing services to both commercial and residential customers.  For our commercial properties, we offer bathroom sanitation services, tile and grout cleaning, playground sanitation, and kitchen hood exhaust cleaning.
We also offer other exterior cleaning services including: Pressure washing, slate roof cleaning, cedar roof cleaning, soft washing, window cleaning, gutter cleaning, gutter whitening, graffiti removal, rust stain removal and more.  Our service area includes: York, Lancaster, Lititz, Harrisburg, Hershey, Mechanicsburg, Gettysburg and surrounding areas.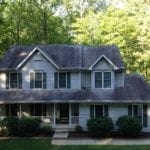 Contact Liberty SoftWash to schedule your free estimate and demonstration (upon request). (717) 324-4208
www.LibertySoftWash.com