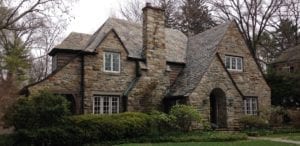 Slate roofs are common sight in many Lancaster, Pennsylvania neighborhoods. Many of these roofs range between 75-100 years in age. Another thing many of these slate roofs have in common is years of unsightly algae, lichen or mold growth that is robbing homes of their curb appeal.
If you think there is nothing that can be done about a dirty slate roof, you would be incorrect. In fact, slate roofs can be safely cleaned removing years of growth with an effective low pressure cleaning process known as soft washing. Soft washing is ideal for cleaning the delicate slate tiles and will return the natural beauty to your slate roof without causing damage.
Liberty SoftWash has cleaned a multitude of slate roofs in Lancaster Pennsylvania and the surrounding area and has perfected this low-pressure slate roof cleaning technique. During the soft washing process, a cleaning solution is applied at low pressure, which is designed to eliminate algae, moss or lichen. We will never use a pressure washer to clean your roof, nor will we walk on the delicate slate tiles. In fact all of our cleaning is done safely from ladders equipped with stabilizers that protect your roof from damage.
If you are looking for a solution to your dirty slate roof problem in Lancaster Pennsylvania, look no further than Liberty SoftWash. In addition to slate roof cleaning, we also offer a variety of other exterior cleaning services that will make your home sparkle from the roof, to the sidewalks. Call or text today for your free estimate 717-324-4208