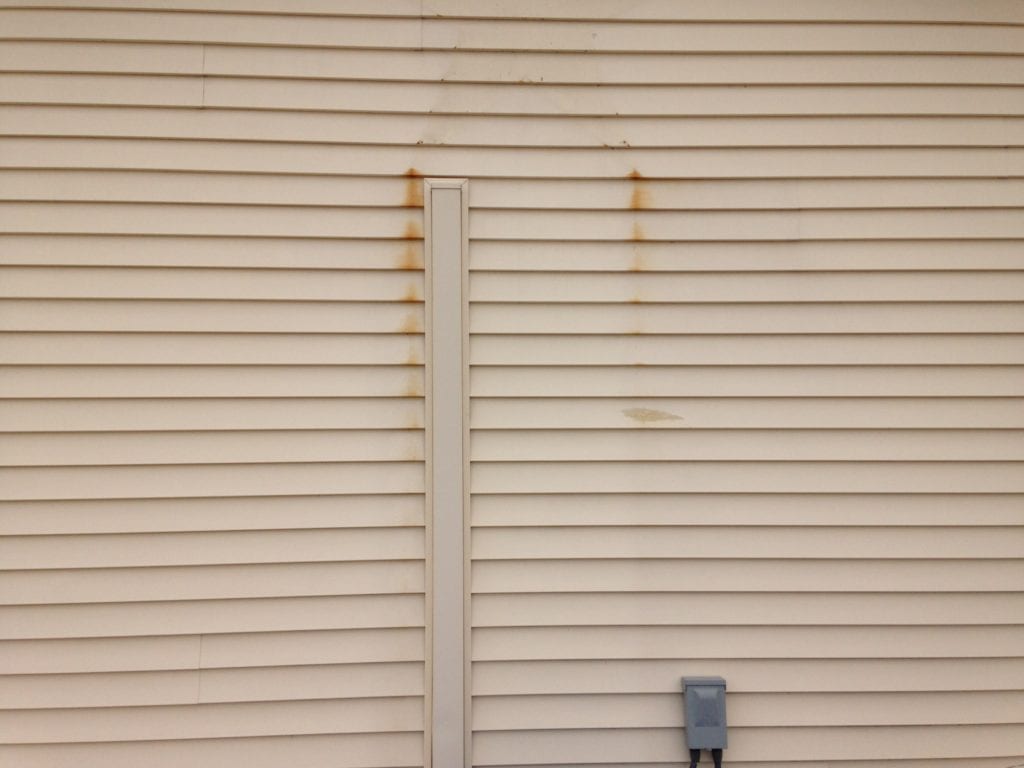 Family-owned and operated, Liberty SoftWash offers professional rust removal services throughout South Central Pennsylvania, Northern Maryland, and Northern Delaware.
Our goal is to provide superior service at an affordable cost. Each of our technicians completes a thorough training program and continuing education courses to stay up to date on the latest cleaning techniques and equipment standards.
Because customer satisfaction is our priority, you can feel confident with any of the residential and commercial cleaning services we provide.
The Benefits of Professional Rust Removal with Liberty SoftWash
Our rust removal service features a safe and effective technique that helps eliminate rust stains and battery acid stains without causing damage.
It's safe for all surfaces around your home or business. We only treat the problem: The surface stays intact, but the stain is gone.
We offer this service for a variety of surfaces:
Concrete
Asphalt
Asphalt shingles
Bricks
Pavers
Stone
Painted surfaces
Pool decks
And more!
Liberty SoftWash Rust Removal Technique
We use a professional-grade product called F9 BARC for our rust removal services. When we combine this product with professional power washing equipment, we can remove even the most difficult stains on concrete, asphalt, and other surfaces.
F9 BARC removes rust, fertilizer stains, and orange battery stains more thoroughly than any other product available.
Why Choose Liberty SoftWash for Professional Rust Removal?
If you want a clean home or business, Liberty SoftWash is the solution. We have years of experience in the cleaning industry, and we know what it takes to get the job done. Because we focus on customer satisfaction, you can rest easy knowing the problem is solved. Even better, our services are environmentally friendly and leave your exterior surfaces just the way we found them – but without the stains!
Still not convinced? Take a look at our reviews:
William Gerhart: "We have used Liberty SoftWash numerous times. They have always gone over and above our expectations!"
Give us a call at (717) 324-4208 or use our online form to request a free estimate. Once you're completely satisfied with our work, consider leaving a review of your own.

Posted in
Blog
,
Colonial Park
,
Dallastown
,
Delaware
,
Dillsburg
,
Dover
,
Elizabethtown
,
Enola
,
Gettysburg, PA
,
Hanover, PA
,
Harrisburg, PA
,
Hershey
,
Jacobus
,
Lancaster, PA
,
Littlestown
,
Maryland
,
Mechanicsburg, PA
,
Millersville
,
Mt Joy
,
PA
,
Palmyra
,
Pennsylvania
,
Willow Street
,
Windsor
,
York, PA
|
build up removal
,
house washing
,
residential
,
rust removal