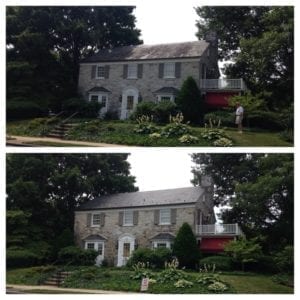 Next time you go outside, look up, and check the appearance of your roof. Are your shingles looking dirty and stained? Do you see ugly black streaks? Are last year's leaves still clumped there? If so, you need help from our experienced staff at Liberty Soft Wash.
Your roof's appearance is important in several ways. An unsightly roof ruins your home's curb appeal and lessens your own enjoyment in your property. No one likes to own the neighborhood's eyesore.
Appearance isn't the only reason to have your roof cleaned. Your dirty shingles are doing more than harming the look of your house. The black streaks that you see on your roof are caused by algae growth, a substance that eats away at your shingles. A faulty roof lets water leak inside your home, ruining ceiling tiles and often causing the unhealthy mold growth in the walls. Plus, rooftop debris can cause water pooling, another cause of expensive leaking problems.
At Liberty Soft Cleaning. our low-pressure soft washing process produces instant cosmetic results while safely ridding your roof of harmful substances. All homeowners should schedule routine roof cleanings but it is a must if you are planning to sell your home.
If your roofing is looking rough and not cared for, contact Liberty Soft Wash today by visiting our website or calling 717-324-4208. We offer free estimates and serve property owners in central Pennsylvania by providing them with safe and effective roof cleaning and other exterior cleaning services.