Just because its a cold January day does't mean you shouldn't be thinking about pressure washing your commercial property in York PA.  Keeping your property looking it's best is important year round.
Liberty SoftWash offers a variety of exterior cleaning services that will keep you commercial property looking its best for your customers.  The exterior of your business is the first thing a customer will see.  Whether its a good or bad first impression, it will be the one that the customer remembers and will probably be a factor in the decision to return or not.
Areas such as sidewalks, entryways, dumpster pads and other concrete surfaces benefit from being cleaned on a maintenance schedule.   A regular maintenance cleaning is where these areas are cleaned on a weekly, bi weekly, monthly, or quarterly to keep these high visibility areas clean for visitors at all times.  Gum removal  cause an unsightly problem for high traffic areas like sidewalks.  Gum removal service is also included with our pressure washing maintenance cleanings.
Your building's exterior is another area to be considered for pressure washing.  Your building's exterior will be evaluated to ensure the proper cleaning technique is used. Brick, stone, concrete and blocks structures can safely be pressure washed because of the solid composition of the materials. While Exteriors that utilize substrates like vinyl siding, dryvit, stucco, aluminum siding, painted wood or EIFS surfaces would best be suited for cleaning done by soft washing.  Soft washing uses a low pressure cleaning technique that utilizes detergents to effectively clean and kill any organic pollutants that may be present.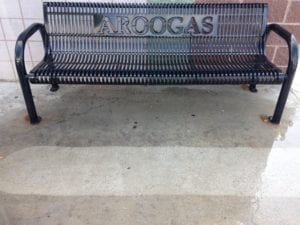 In addition to pressure washing and soft washing, Liberty SoftWash offers other exterior cleaning services that will allow you to hire just one professional to handle all of your need.  Some of our other commercial cleaning services include:
Soft Wash Roof Cleaning
Window Cleaning
Awning Cleaning and Canopy Cleaning
Power Washing and Pressure Washing
Tile and Grout Cleaning
Playground Sanitation
Restroom Sanitation
We are proud to serve York, PA and the surrounding areas:  Lancaster PA, Harrisburg PA, Hershey PA, Mechanicsburg PA, Carlisle PA, Gettysburg PA, Hanover PA. 
Liberty SoftWash is a certified  member of the UAMCC.  We are fully insured and are happy to meet with you onsite to discuss your property's cleaning needs and will provide you with a demonstration of our pressure washing services to show how they can benefit your business.  Call or text 717-578-5342

Posted in
Blog
,
Gettysburg, PA
,
Harrisburg, PA
,
Lancaster, PA
,
Mechanicsburg, PA
,
York, PA
|
commercial power washing
,
commercial pressure washing
,
Gettysburg PA
,
Harrisburg PA
,
Hershey pa
,
Lancaster PA
,
mechanics burg pa
,
Power Washing
,
power washing york pa
,
pressure washing
,
pressure washing york pa
,
roof cleaning PA
,
soft washing york pa
,
window cleaning