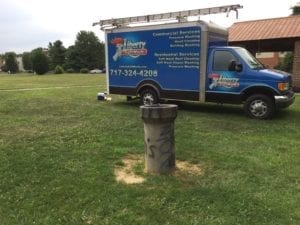 Graffiti is not only unsightly but, it also can decrease your property value is not removed. One of Liberty SoftWash's specialties is graffiti removal which is made necessary by unsightly vandalism on building and other fixtures.
We can safely remove "tagging" done with spray paint without damaging the surface below the unsightly "tags." We offer our graffiti removal services to both business owners and residents in Central Pennsylvania including York, Lancaster, Harrisburg and surrounding areas.
Of all of the various types of graffiti, spray paint is the most common and most difficult to remove. Graffiti is not only an eyesore on a commercial or residential property but, it can affect the entire neighborhood by making it look trashy if not taken care of.
Liberty SoftWash offers professional pressure washing services that uses a combination of hot water, low pressure and professional products that will remove the paint without causing further damage. Our technicians are experienced with graffiti removal and return your property to a pristine, graffiti free environment.
There is no way to control when or where graffiti happens, the only thing you can do when it does happen is to hire a professional like Liberty SoftWash to remove the unsightly graffiti.`
We understand the urgency when dealing with graffiti removal and will do our best to have your property back to normal as soon as possible. Our professional graffiti removal services will have your business or residential property restored before you know it.
If you are in need of professional graffiti removal services, call the pros at Liberty SoftWash 717-324-4208  Visit our website for more information. www.LibertySoftWash.com